Cold Case Files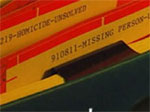 Domestic Security Investigations accepts Pro Bono Cases pertaining to what is commonly referred to as "Cold Cases." The assignments will be accepted based upon the facts of the case, prior investigation, victim profile, and resources available. In Pro Bono Cases, Domestic Security Investigations will donate all labor costs. Investigative costs (expenses) may be borne by the client depending upon economic factors of the assignment and client's financial status.

In order for Domestic Security Investigations to consider a Pro Bono Cold Case, please submit copies of the police report, medical examiner's report, and any other documents that have a bearing on the case to our office. This allows us to better balance the time, manpower, and resources needed to investigate the case with the available Pro Bono Case resources.

All Pro Bono Cases will be worked within the existing case load and as time permits. They will be treated as an "active" investigation with status reports filed at regular intervals. Clients will not be allowed to accompany Domestic Security Investigations Investigators during the assignment.

To learn more, you may contact us by telephone at (240) 899-0787 or 1-800-378-0787. We are also available via e-mail at info@dsidetectives.com.

Top